Pig Tales creates fairy-tale experience in the world of Web3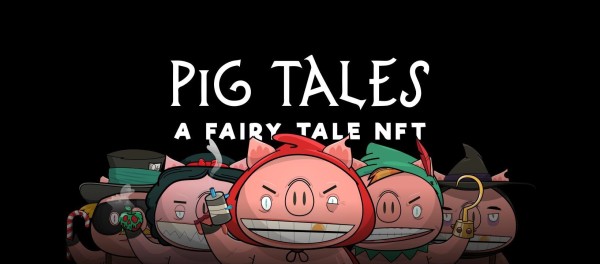 KORTRIJK – Three entrepreneurs from the Belgian province of West Flanders have joined forces to create Pig Tales, a post-apocalyptic and fairy-tale metaverse that allows both entrepreneurs and individuals to explore the world of Web3 with unique NFTs. It has been a success so far: in a first phase, the 77 available NFTs sold out in less than 10 minutes.

Pig Tales supports the Web3 transition

"Web3 is set to fundamentally change the internet as we know it today. Autonomy and privacy will play an important role in this. Data, goods and identity stay owned by the users and do not end up in the hands of big tech companies," co-founder Nikolas Taillieu, CEO of Ballistix.digital, explains.
Pig Tales is a collaboration of real estate agent Benjamin Verkoopt, Ballistix.digital and creative marketing agency GBL Studio. "Our project is unseen in Flanders. Pig Tales is a metaverse that ventures into the world of Web3 with an initial collection of non-fungible tokens (NFTs). Our goal is to take everyone on a digital journey and inspire them with how Web3 works and what it can do in an illustrative way."
Generative profile picture project
Pig Tales offers 7,777 images of little pigs, each uniquely generated so the buyer can use them as a profile picture. "When we developed those illustrations, we took inspiration from a nostalgic, post-apocalyptic fairy-tale world. The buyer chooses the image that suits their needs and preferences best and acquires a licence or selling rights for the artwork. If, for example, they want to market a beer with that illustration, they can," Benjamin Bonny explains. "And that's not all, Pig Tales is more than a bunch of pretty illustrations. It's a new brand with a vibrant, exclusive community."
Lively, exclusive community
Pig Tales targets both entrepreneurs and individuals. "Payment by Visa and Mastercard makes subscription efficient and frictionless. The holder of the NFT also has an exclusive ticket to access our community. This private club aims to inspire and inform people of all the possibilities Web3 has in store for us. We are now doing this with digital meetings, but are also planning some physical events," Pieter Lefevre continues.
Sold out in 10 minutes
In a first phase, they offered 77 NFTs for sale. "It was a success: we sold them all in less than 10 minutes. In the next phase, which will start on 1 December, we are planning to sell as many as 700 NFTs. Tip for anyone who is interested: if you respond early, you can choose your own avatar and access all the information in our new metaverse from the very start," Nikolas Taillieu concludes.
The first avatar was sold earlier this year when the West Flanders Young Entrepreneur of the Year 2022 was being chosen. The unique design was auctioned and raised 2,000 euros. The full amount went to an aid organisation for the victims of the war in Ukraine.
For more information, visit www.pigtales.io.
Media Contact
Company Name: BV Bonny Invest
Contact Person: Benjamin Bonny
Email: Send Email
Country: Belgium
Website: www.pigtales.io