Stephen Perez's Poems of Me Promoted by Author's Tranquility Press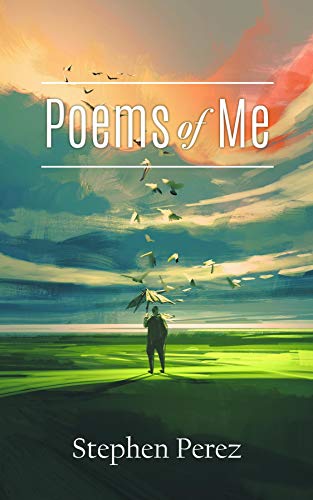 Talented poet, Stephen Perez, partners with Author's Tranquility Press to promote "Poems of Me," a collection of poems inspired by real-life happenings
Poems of Me is inspired by true events in the life of the author, Stephen Perez, as he brings readers into his personal journey over the years with the goal of encouraging positive emotions in as many people as possible. In a related development, the poet has received support from Author's Tranquility Press, a leading publicity and media agency, to promote the book to readers worldwide.
"These poems I wrote are just poems of happenings in my life. Some are more personal than others, but they are all special to me." – Stephen Perez.
The world of poetry has evolved over the years, thanks to the emergence of creative writers drawing inspiration from happenings around them and across the globe to create thought-provoking poems. However, Stephen Perez has practically raised the bar with Poems of Me, inspired by true events that happened to him.
Poems of Me is an emotional, thought-provoking piece that is already driving conversation among readers across age groups. "Poetry that soothes the heart and mind. When we think of poetry, we often think of something long and complex but with Stephen Perez's book titled Poems of Me, readers can enjoy simple yet powerful poetry. Despite its simplicity, it encourages nothing but positive emotions to its readers. A definite must-read for poetry lovers everywhere. As a fan of poetry myself, I can say I am touched by the words within the poems. I especially enjoyed the poems about love and fate." – Ibitoye.
For further information about Poems of Me and other books promoted and published by Author's Tranquility Press, visit – www.authorstranquilitypress.com.
About Author's Tranquility Press
Author's Tranquility Press is a top publicity agency known for delivering innovative solutions designed to help writers across genres to reach a wider audience. The company combines the use of the latest technologies and the expertise and diverse experience of the team to provide quality, relatable content to as many people as possible, irrespective of their location across the globe.
Media Contact
Company Name: Author's Tranquility Press
Contact Person: Patricia Adams, Marketing Supervisor
Email: Send Email
Phone: (866) 411-8655
Address:239 Richmond Dr
City: Hiram
State: Georgia, 30141
Country: United States
Website: www.authorstranquilitypress.com