Adolfo & Andres Rodriguez with A/R Financial Group, Interviewed on the Influential Entrepreneurs Podcast Discussing How Social Security Claiming Impacts Retirement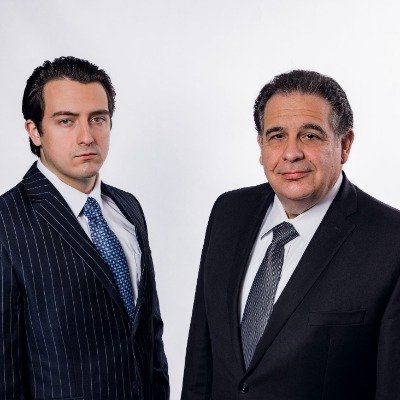 Adolfo & Andres Rodriguez discuss their approach to helping clients create a savings plan that makes sense for a successful future. Social Security is a necessary part of a comprehensive retirement income strategy; there are important considerations before claiming early. Working with a financial professional is crucial in coordinating three types of benefits.
Listen to their podcast interview on the Business Innovators Radio Network
https://businessinnovatorsradio.com/interview-with-adolfo-andres-rodriguez-with-a-r-financial-group-discussing-how-social-security-claiming-impacts-retirement/
Rodriguez says, "By combining the proper social security claiming strategy, the judicial use of annuities within qualified plans, a partial Roth conversion tactic, a properly structured Indexed Universal Life Insurance policy, and other financial instruments, a synergistic effect can be created. This approach could minimize exposure to market risk, assure the continuation of tax-efficient income, and significantly increase the after-tax amount received."
Social Security is a crucial part of many people's retirement planning. The Social Security Administration (SSA) estimates that about 60% of elderly Americans rely on Social Security for at least half of their income.
For most people, deciding when to claim Social Security benefits is one of the most important financial decisions they will make in retirement. The key to making the right decision is understanding how Social Security works and fits into an overall retirement plan.
Learn More: http://adolforetirement.com/
Here are some things to consider when making claiming decision:
Full Retirement Age
The full retirement age (FRA) is the age at which someone is eligible to receive full Social Security benefits. For people born between 1943 and 1954, FRA is 66. For those born in 1960 or later, FRA is 67. If they claim benefits before reaching FRA, their benefit will be reduced.
Life Expectancy
Life expectancy is an essential factor to consider when claiming Social Security benefits. Generally speaking, the longer someone is expected to live, the more advantageous it is to delay claiming benefits. This is because Social Security benefits are designed to replace a more significant portion of working income if they claim them later in life. For example, if they claim benefits at age 70 rather than 62, their benefit will be 28% higher. This can make a big difference in their overall retirement income.
Health Status
Health status is another critical factor to consider when making Social Security claiming decision. Generally speaking, the healthier someone is, the longer they can expect to live. If someone is in good health, waiting to claim Social Security benefits may be advantageous. On the other hand, if their health is not good and they don't expect to live a long life, it may be better to claim benefits earlier. This is because they'll want to maximize the time they spend receiving benefits.
The Bottom Line
Deciding when to claim Social Security benefits is a complex one. There are a lot of factors to consider, and there is no single right or wrong answer. The best thing you can do is to become educated about how Social Security works and how it fits into the overall retirement plan.
About Adolfo & Andres Rodriguez
Adolfo Rodriguez became managing partner of the A/R Financial Group in 2005. With over 20 years of experience in the insurance and financial service industry, Adolfo Rodriguez has always focused on the unique needs and goals of the pre-retiree & retiree community. Adolfo Rodriguez and his team serve a select group of families to help build and maintain the retirement lifestyle they have worked so hard for and deserve.
Adolfo Rodriguez is a college graduate from the University of Houston Clear Lake and holds the following designations: Registered Financial Consultant (RFC), National Social Security Advisor (NSSA). He is a National Financial Planning Association member and the National Association of Insurance and Financial Advisors. Adolfo Rodriguez created the "GRIP" a proprietary system that produces guaranteed income in retirement, and author of "My Retirement Rescue" book. Adolfo is currently the President of the non-profit organization Casa Cuba of Houston. Adolfo is a member of the board of the San Jacinto College Advisory Committee. Adolfo is a speaker for SOFA, a non-profit organization Society of Financial Awareness. He's also Co-founder of Bio Energetic, with two pain management clinics in Las Vegas, Nevada, San Antonio, and opening one in Houston in 2022. Adolfo Rodriguez has been featured on many networks as a Social Security and retirement expert.
Adolfo Rodriguez was born in Havana, Cuba in 1966, and his parents were able to leave the communist island for a better life in 1968. Adolfo's family was transplanted to Texas, where they lived all their life. Adolfo grew up in Pasadena from the age of 12 and has been here ever since. Adolfo learned from his father the value of hard work, honesty, and integrity. His father opened and operated his own business, and Adolfo inherited the business after his father's death in 2016. Adolfo operates the accounting part of his father's business as other family members run the business's daily operations.
Adolfo Rodriguez married his wife Denise Rodriguez in 1992 and have two children, a son Andres and a daughter Alexa. Alexa graduated from the University of Houston and will be teaching and coaching in her old high school Andres, after playing basketball in college at Kansas on an Athletic Scholarship, has joined the firm as a junior advisor. Adolfo is a Shriner and enjoys volunteering at the hospitals located in Galveston. Adolfo is proud to be a Shriner and the work they do in the community. Adolfo enjoys spending time with his children and wife; they enjoy traveling and doing multiple outdoor activities in the great state of Texas. Adolfo and his wife Denise have their family roots in Texas, and Texas is the place they call home.
Andres Rodriguez is completing his Bachelor of Business degree at the University of Houston Clear Lake. In 2021, Andrés became a Junior Partner with over 5 years of experience in the industry. His goal is to create a personalized plan for every client based on their current financial situation and future retirement goals. In addition to his licenses in Life and Health Insurance, Rodriguez continues to study so that he may obtain other licenses to serve his clients better.
Since he was a small child, Andres Rodriguez has lived in the Pasadena area. Growing up Andres learned about the financial industry from watching his father (current managing partner) run and grow AR Financial Group into what it is today. During this time, he learned the importance of hard work, which eventually led him to play collegiate basketball. The focus of his hard work has now shifted to helping his clients on a daily basis. Learning the process to make sure that clients can reach their financial goals consistently. Andres loves Texas and has no desire to move out this great state.
Andres loves dogs and enjoys spending time with his two grown German Shepherds "Lady and Ryan." Andres enjoys exchanging stories with other dog owners he is always amazed how different dogs can be depending on the breed. He would love to be a breeder as a hobby later on in life.
Media Contact
Company Name: Marketing Huddle, LLC
Contact Person: Mike Saunders, MBA
Email: Send Email
Phone: 7202323112
Country: United States
Website: https://www.AuthorityPositioningCoach.com