New app, Mirro, uses cutting edge AI to bring unbiased skincare advice and product recommendations to users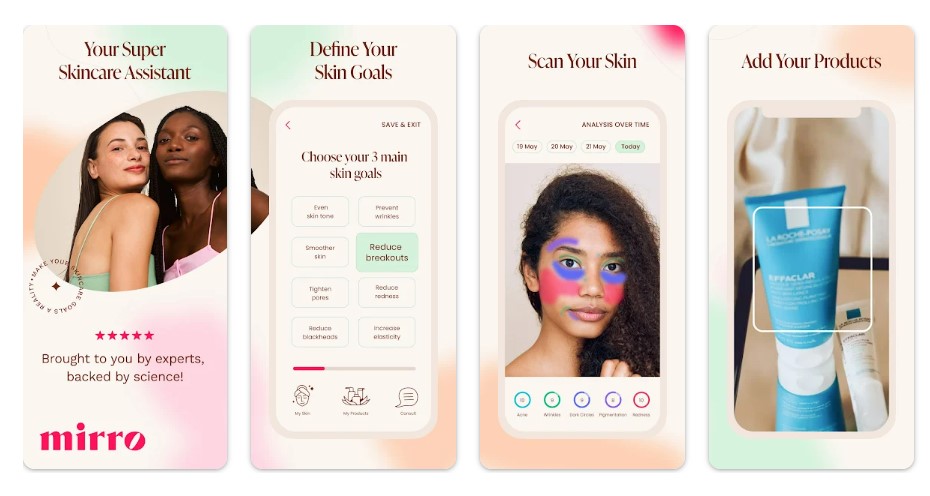 New York, NY – August 8, 2022 – Every day you look in the mirror. You focus on the little lines on your forehead, track the progress of your crows feet, slather cream on your skin, if not hoping for improvement at least trying to stem the progress of aging skin. You have drawers full of products that promise one thing or another. Purchases made based on a recommendation from a TikTok tutorial but you're not sure what, if anything, is working. A newly launched app, Mirro, combines the science of AI with dermatologist and cosmetologist recommendations in one convenient, easy-to-use, and unbiased app.
Mirrori, the company behind the Mirro app was founded in 2019. Now, after years of research and development, they have launched the Mirro app which enables users to get custom recommendations for their unique skin type.
Users simply download the free app and select their skin goals; whether it's preventing wrinkles, having smoother skin, tightening pores, reducing breakouts, and blackheads, evening out skin tone, reducing redness, or increasing elasticity. Users then take and upload photos of their skin which are analyzed by the proprietary Mirro AI technology. With the premium version of the app, users can scan in and create an inventory of the skincare products they are already using. The technology analyzes which products work best for the user's skin type and their skin goals and formulates a unique, customized skincare plan. With regular check-ins from a skin specialist, Mirro is like having your own dermatologists, only better.
"We designed Mirro to provide unbiased advice," explains Mira Awwad-Khreish, CEO and Co-founder of Mirrori. "There is so much advice and information to wade through when it comes to skincare. From lifestyle influencers giving their opinions on social media, to make-up artists offering skincare hacks, to dermatologists and cosmetologists offices offering their own line of skincare products, it's easy to get overwhelmed. Mirro isn't about product sales. The app is designed specifically to provide unbiased advice that is tailored specifically for each individual user. That's why we take an inventory of the products each user already owns to advise them about which products are working for them, and which products might work better than what they are currently using. The goal isn't to sell, the goal is to achieve healthy, glowing and gorgeous skin that makes the person feel confident."
Mirrori is already attracting impressive attention. The company has raised close to two million dollars in funding and has investors and supporters from the Road2 AI-Excellence Center, which is partly owned by Nvidia, and the Israeli Innovation Authority.
Thousands have already downloaded Mirro and are loving the personalized advice and check-ins they are receiving. The app has dozens of five-star reviews from satisfied users who are achieving their skin goals and seeing real improvement in their skin's health and their natural glow.
Users can download Mirro from either the Google Play Store or The App Store.
For more information, to keep up with the latest information, visit www.mirrori.co.
Media Contact
Company Name: Mirrori
Contact Person: Mira Awwad-Khreish
Email: Send Email
Phone: 972 525554320
Country: United States
Website: www.mirrori.co